Our Restaurant
CONTACT INFO
Phone:
314-773-8318
Address:
3175 S. Grand Blvd.
St. Louis, MO 63118
Map
Welcome to Wei Hong Bakery and Restaurant!
Authentic Cantonese Cuisine on GRAND Blvd.
Carry-Outs welcome!
PLEASE NOTE: WE WILL BE CLOSED FOR VACATION 7/14-7/18/2014 . WE WILL BE HAPPY TO SERVE YOU AGAIN STARTING 7/19/2014
Please note our hours when ordering
Please note- We are on Grand Blvd.

If you want to order from Wei Hong on Olive please click here
Bakery Specials:
Fresh Bread baked DAILY!
We bake special cakes for Birthdays and Weddings
Restaurant Specials:

Roast Pork (we can make a whole roast pork for weddings), Roast Duck, Soy Sauce Chicken, Salted Chicken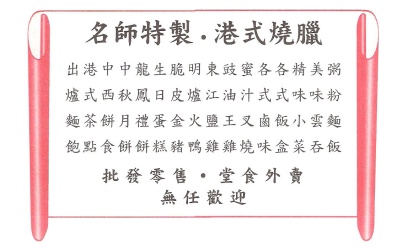 OPEN 6 DAYS A WEEK!
Please note our hours when ordering.
WEDNESDAY TO MONDAY - 11:00 AM - 9:00 PM.
TUESDAY - CLOSED.